I am trying to reorganize my mind after this full-immersion of brand new contents that have been presented during MS SharePoint Conference 2009 in Las Vegas.
It's not so easy during these tough economic days to be able to participate to conferences like this. Fortunately I was able to make it.
The overall comment about SharePoint 2010 is that it really rocks!! I think MS included most of the highly demanded missing feature to bring the SharePoint platform to the next level. I currently like most of the architecture and new feature implemented. Though I would need some time (quite a lot to be honest), to evaluate them fully since the platform is even more huge.
I also noticed some things that I already do not like, but let stay positive in this post (they might even decide to complete them on next builds 🙂

I tried to put down some of the things I appreciated most, but it started to be a very log list and a long post. This then won't be a fully comprehensive post of all of the new enhancements, but only some of the stuff I liked most.
For a full list of feature, I forward to some official sources [1]
Below you can see the map of all the main features: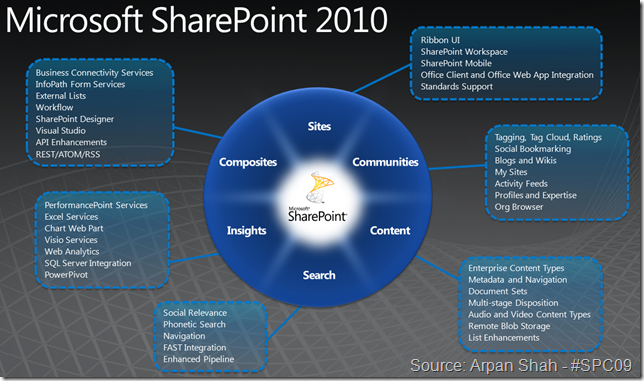 SharePoint Foundation
The overall architecture of the product has been enhanced. The most evident feature which to me bring benefits are:
Revised and more Fluent UI
all the UI has been reviewed, making the platform far more intuitive than the previous one. Now the interface make use of Ribbons (like for Office), overlay windows and inline editing which provide a very consistent user experience

Wiki edit mode EveryWhere
Wiki is implemented in every web page, making it possible to edit on the fly a page, like it to others using the [[ ]] sintax, which now implement an autolookup mechanism in order to reference pages and objects.
This also allow selection and reference of all the content present on a site, allowing for instance to include on a webspace a chart image coming from another report page

MetaData EveryWhere
Now it's possible to define several type of MetaData, which can be use to implement taxonomies or folksonomies, navigations, and further enhance social feature around interests and experts.
MetaData can be defined at Enterprise level using the EMM (Enterprise Managed Metadata), in order to provide a common way to structure information architecture; this can be defined to provide specific tag-set on specific sitecollection, webapplication or also to be shared among different Farms.
The use of personal tags is available.
Automatic Tagging is also possible through the definition of specific rules on libraries

Cross Browser support, Multilingual interface and WCAG 2.0 support
this should further facilitate development of SharePoint application, which in some circumstances weren't just worth it due to the complexity of implementation of those function. Now they are build in on the platform.

Office WebApp
Be able to open a word document online, without the need of downloading it first; or also edit it online simultaneously with other colleagues, it's just tremendous.
Excel Services also looks promising, and better implemented this time 🙂 Most importantly, their information can be easily be used as source for web content or to be integrated within other processes

Document Management
Also this part of the product has been enhanced; most important feature include the new type of item, the Document Set: this allow to create a group of document as a single consolidated atomic work product. This allow to mange the Document Set with all of the other feature (tag, comments, move, approve, etc). Enhanced Record Management and Document routing feature are also provided
Social Feature
Tagging, Commenting, SocialBookmark and Rating
This was one of the most awaited feature (and one of the most implemented custom on Moss 2007) It fully leverage on the Metadata Infrastructure and provide tagging and commenting of both SharePoint content and also external web site comments.
It can be used to track content both for personal future retrieval and for sharing the content with colleagues which can both track a single colleague (and see what he is tracking) and follow directly a tag (hence seeing everything is tagged using that specific term).
This widen so much the possible implementation of solution leveraging these features.

Colleague Activity Feed
It is now possible to track activities which our colleagues do within the platform; this includes tagging and commenting of content. More importantly, this can be customized to implement custom activity tracking (i.e.: within a workflow, when a user approve a procedure this can be published to his colleagues or a specific audience).

People and Expertise Social Search
The overall Search implementation looks very good. New filter by focus, expertise and other user property are automatically provided and can be customized in order to enhance experts look-up.
Social feedback is now included in the result relevance computation, meaning the a document with tags or rating gets better visibility on search results
Phonetic search has been included, so that the platform try to search terms misspelled (this is most important on English speaking implementations)

User Profile and Organization Profile
The overall user profile has been enhanced; but most importantly a Organization Profile is now been implemented, making it possible to define profile information for Corporate Company or Company Departments (depending on the type of implementation).
The overall navigation of the organization hierarchy has been enhanced as you can see on the screenshot below
Development
On the development side, in my opinion the two most important point are:
Customization/Development model
The overall customization model can be re-organized in my opinion. Now the use of SharePoint Designer as customization tool can be fully embraced, since this now implement a way by which export any customization to a wsp package, which can be further enhance later-on using VisualStudio 2010.
This can now allow quick implementation of customizations and changes on the platform, which can then be managed using an enterprise approach, deploying them properly, storing them on a Software Lifecycle platform (as TFS)

Platform Extensibility
Now the SharePoint platform seems to be a real application development platform which has been designed to be extended in the future and from customization (in the past, some classes or component were not open to customization, and that made it more difficult or simply time expensive also for some easy changes).
Now the platform implement a comprehensive set of API, which are exposed through webservices and rest api

Also this topic has been enhanced
Form/Process Services
I quickly sow some examples of how new SharePoint Designer, along with Visio and Infopath can now be used together to implement human based workflows.
I will need to better deep down on this point, but as far as I sow, this push ahead the need of adopting a platform like K2 or Nintext (which of course implement fully the BPM approach).
There's a lot to be better analyzed and understood (including some component which I didn't had the opportunity to follow like: Composite application, Business Connectivity Services and Mobility support).
I hope to be able to share my findings in the future.
HTH
Alberto
[1] Source of further information: